Theatre seating plan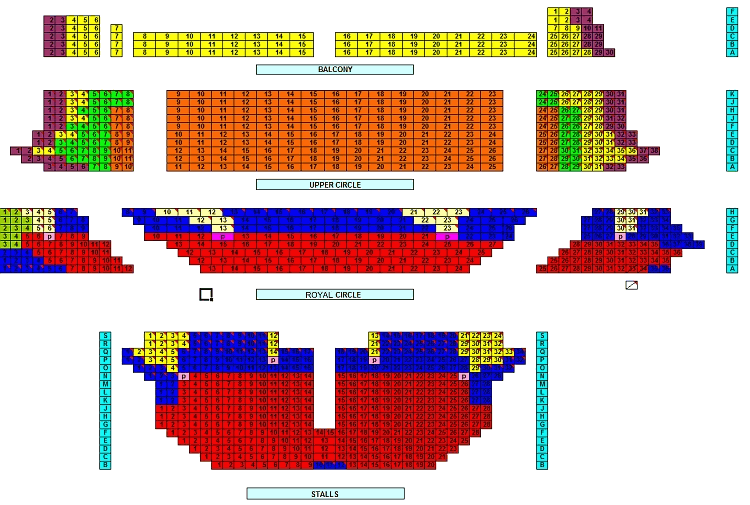 Enjoy the blockbuster London show, The Phantom of the Opera at the Her Majesty's Theatre. This is one of the huge auditoriums with occupancy of 1216 and spread across four levels. There is considerable price variation in each section. Thus, seats are available for each budget or preference. For those who are looking for best viewing seats, must opt for Stalls section. To catch some remarkable view of the stage, you must try to arrange tickets in the centre of front rows of Stall section. On the other hand, if you buy tickets in the very front row then it would be harder to catch the action aptly. In the Stalls section, the ticket prices are quite higher and most expensive in the auditorium. The section which overhangs the Stalls is Royal Circle and offers some great seats at competitive prices. Ticket prices are bit similar to the Stall section, but you will enjoy superb view of the stage. Grand Circle is the second higher tier and offers some superb bargain tickets offering reasonable viewing. Ticket prices are quite lower as compare to other section. Balcony is the uppermost tier of the theatre and quite far away from the main action. Seats on the back side are not recommended as they are worth nothing due to pillars.
Show Times
| | | |
| --- | --- | --- |
| Booking From | | Booking Untill |
| 27 sept. 1986 | | 25 April 2015 |
| | | |
| | | |
| | | |
| | |
| --- | --- |
| Performance Times | |
| Matinees: Thrusday 2.30 PM and Saturday 2.30 PM | |
| Evenings: Monday to Saturday 7.30pm | |
| Running Time | |
| 2 hours 30 minutes | |
Theatre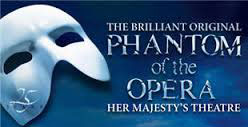 Age Restrictions
The Phantom of the Opera is recommended for children aged 6 and over. Under -3s will not be admitted.
Boook The Phantom of the Opera Tickets !
What The audience is saying...

Great event for the whole family & all ages! The theatre is old and quirky which adds to the ambience of the occasion.

One of the best musicals I've ever been to and would encourage anyone to see