Her Majesty's Theatre London - Book Phantom of the opera Tickets
It was in 1705, John Vanbrugh had built the first theatre at the current site. The present building was built in 1834 by Herbert Beerbohm Tree. He used the huge profits he made from the nearby Haymarket Theatre to construct the venue. He hired services of the notable theatre architect of his time, Charles J. Phipps for designs of Her Majesty's Theatre London.
Tree founded Royal Academy of Dramatic Art at Her Majesty's Theatre London in 1904 and resided in the building premises until his death in 1917. One of the interesting facts that have been associated with the house since it was first built is its name that keeps changing with the gender of the ruling monarch of Britain.
The house was initially called the Queen's Theatre. In 1714 it was called the King's Theatre on King George's accession. In 1837, the venue came to be known as Her Majesty's Theatre after Queen Victoria while between the period of 1901 and 1952 it came to be known as His Majesty's Theatre. It came to be known by its present name after Queen Elizabeth II's accession to the British throne.
Along with Tree's spectacular productions, shows of notable playwrights like George Bernard Shaw, J. M. Synge, Noël Coward and J. B. Priestley were also staged here during its initial days. Oscar Asche's Chu Chin Chow debuted at Her Majesty's Theatre London in 1916 and went on to enjoy a record breaking run of 2,235 performances here.
One of the oldest theatre venues in London, Her Majesty's Theatre is lavishly designed with its grand exteriors and opulent interiors. The gold statutory around the stage of the theatre and the three tier boxes reminds audiences of its royal and pristine charms.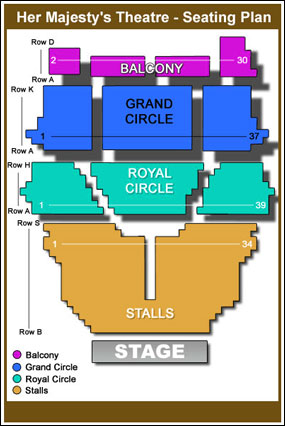 57 Haymarket London SW1Y 4QL, United Kingdom